Voted Best Wedding Idea – 2017
Available Nationwide USA


San Diego – Los Angeles – New York – Chicago – San Francisco – Anywhere
Live Event Artist thanks you for making us the number one choice for "Live Event Painting" In the United States NATIONWIDE! Featured in an article on The New York Times. Recently featured on "I Do Over" with host Diane Valentine on WE tv. See us on David Tutera's season finale of "My Fair Wedding." Currently featured in: Inside weddings Magazine, Southern Bride Magazine & 201 Magizine.
Please see below for a LIVE Video of Tom Fagan at work and a step by step process of how Live Event Artist Works. Thank You!
Fill out The Live Event Artist Form, and we will get back to you with a price quote asap.
Price range for paintings usually varies between $2,000 and $4,000 for a keepsake that will last a lifetime. Paintings are 24 X 30.
Live Event Artist is available to travel Nationwide USA.
* Prices may vary dependant on event location and your specific needs.

Additional Services:
Many couples who are already married have asked us whether we can create a painting of their ceremony from photographs from their professional photographer and the answer is yes!
"Paint from a photograph prices start at $850 plus shipping.
*Sending us a photo 8 X 10 is preferred.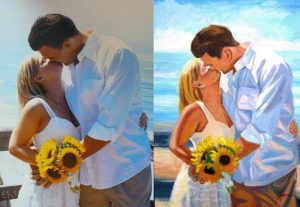 The Day Of: A Live Event Artist will arrive approximately two to three hours before the start of your event to set up the blank canvas and begin the process of capturing the feeling and flavor of your event. Our Artist will be working to capture the essence of your event as the moments unfold.
As your celebration progresses, our Artist will be finalizing the details on the painting. We have found that guests love to take a look at the work in progress and are always facinated by how the painting evolves – it truly is a wonderful form of entertainment, as well as the perfect wedding keepsake.
Live Event Artist will complete your painting in approximately 5 hours. The painting will be presented to the bride and groom and will be on display at the reception and ready for the bride and groom to take home that day.