Live Event Artist Portfolio
Live Event Artist Portfolio showcases Tom Fagan.
Born and raised in Connecticut, Tom attended the Silvermine School of Art, Central Community State College and Pier School of Art. Upon graduation in 1977, Tom embarked on a career in the field of Illustration as Art Director for a major corporation, designing restaurants, hiring new artists and illustrating ads and brochures. In 1985 he began specializing in solo illustration including graphic design and murals.
From 1987 to 1989 he attended Otis Art Institute in Los Angeles and in 1989 he traveled throughout Europe to follow his true interest – Fine Art. During this trip he studied the masters, especially the impressionists such as Van Gogh, Monet and Sisley. He then traveled to Australia and Thailand for 8 weeks of further study and painting.
In 1997 Tom studied with Charles Sovek, which opened up the world of plein-air painting, and he has pursued it with a passion ever since, taking additional workshops in Scottsdale, Arizona, Mendocino, California, Mohegan Island, Maine and, most recently, in Bend, Oregon with Kevin McPherson.
1999 took him to China where fine art is held in high regard always exploring and painting along the way. Each painting session drew groups of interested admirers observing his works and technique.
Then in 2000 he traveled through New Mexico painting its magnificent scenes and at the end of this trip his work became even more sought after by various galleries across the U.S.
After spending the Fall of 2000 among the colorful Connecticut foliage and essentially returning to his roots, he was offered a prestigious one-man show at a major gallery in Madison. That same year saw Tom join the ranks of other well-established artists when he taught a workshop along with Ken Auster and David Solomon.
His paintings have swiftly found their way into many private collections in many states while his murals, popular with all ages, have become more numerous each year. Tom is now a member of the California Art Club and the Laguna Plein Air Painters Association.
"My goal is to continue a career in Fine Art and so be able to travel the world to see and paint its many wonders. That is my life." – Tom Fagan
Live Event Artist will travel anywhere in the U.S. for your event, Please Inquire!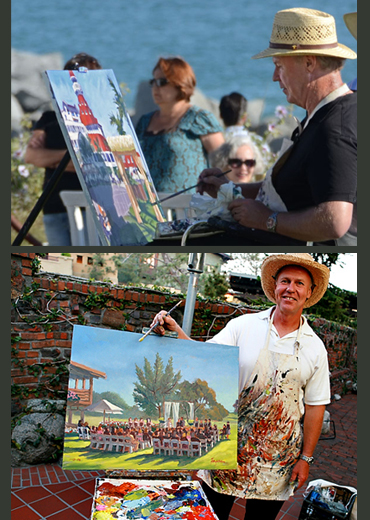 Live Event Artist - Tom Fagan, painting live in Downtown San Diego on 5th Ave.